Special offer for Europe customers!

Finally we've found possibility how to avoid customs fee with delivery to your door within 14-21 days.
Now we can ship your Ladapower.com orders from Belgium to any Europe country. 

How it works :
- You need to place order as you are normally do.
- Inside basket please select shipping carrier - "Customs Free Shipping from Belgium ,14-21 days Delivery Time .
- After order placed and confirmed, parts will transferred to Belgium,
- In Europe We will use GLS  shipping carrier and Post.nl only for Greece, Cyprus and Malta - please look attached shipping rates.
- After shipping you will have tracking number
- Impossible to calculate correct shipping rate for every parcel, because this companies calculate shipping via parcel sizes only. Not as we are usually do by weight.
How we will calculate shipping price :
- We will take "XL" fixed price from GLS rates and send back shipping price if this is would be possible.
- We are promise to find best shipping way and save your money on shipping as much as possible. This is very important for us too.
-  Free pick up in Belgium available.
Greece,Malta and Cyprus via Bpost.Be :
0-5kg - 42$
5-10kg - 62$
10-20kg - 102$
20-30kg - 127$
Wery Important for Bpost!!! Max parcel Sizes. We can't ship oversized parcels. 
Lenght + 2x Weidt + 2x height must be less then 3m
max lenght is 1,5 m
Here attached shipping rates for the shipping carriers available at this moment.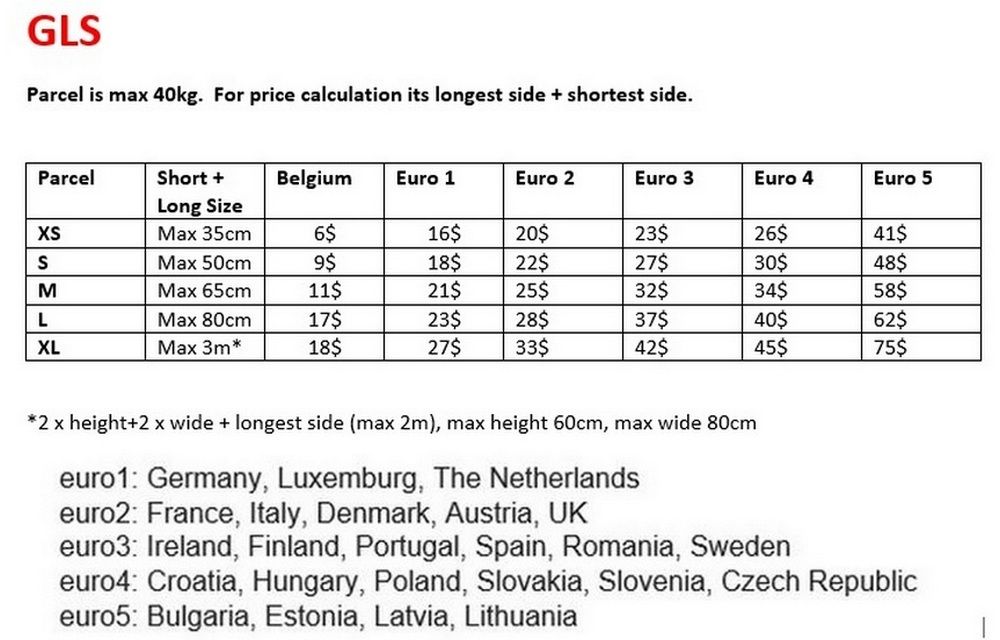 We try to ship your item(s) ASAP, usually within 48hrs of receiving cleared payment. But we reserve the right to send goods within 7 days after the payment, if the product is out of stock.
When an item is unavailable we will contact you with a realistic estimated time of delivery, and give you the option of cancellation and refund.


All parcels We ship Registered Airmail with tracking №.


Delivery time 14-45 Days.


EMS shipping available – email for price to Your country.
We are declare low value for the parts but all international buyers are responsible for any import duties and taxes . Please contact your local customs office for those rates.